In the world of commercial construction, simple things like the ability to meet deadlines and the availability of your commercial building contractor can be important factors when choosing which California commercial general contractor to hire for a specific job.
Among the myriad of considerations that goes into such a decision, that company's ability to stay on top of current industry design trends can be a subtle factor in your choice.
For 2017, your general contracting firm is likely to suggest some of the following concepts in order to avoid being behind the curve when it comes to the commercial design of your structure:
Local Ambience
Simply following a worn-out pattern of constructing the same old building and offering a homogenized version of the specific corporate vision is an outdated notion.
Customers entering a commercial facility are seeking a sense of community when they arrive, which indicates that they're looking for unique aspects that offer a nod to the local surroundings.
That means that your California commercial general contractor needs to be in tune with the approach of those locals, which involves looking at the design from a hyper-local perspective.
The Shift to Retrofitting
While the idea of your commercial building contractor leading a project that creates a structure from scratch sounds enticing, your available budget might not be so amenable.
That's why one trend for a general contracting firm that continues to grow in popularity is to retrofit a building to a particular client's needs.
Simply getting land to put up a new building can be a steep expense, especially in the Golden State. That's why adapting an existing structure to a company's specific requirements has become an effective strategy, allowing for a quicker time frame from start to finish.
In many cases, such adaptive techniques have led to the development of architecturally-friendly districts that have taken on a new look.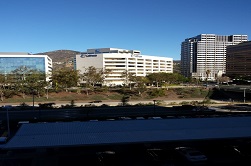 Digital Signage
Making the most of a commercial space means using all of the available area as effectively as possible. By using digital signage to get a company's message across, the consumer doesn't feel under siege from high-pressure sales techniques.
In addition, it maximizes the effectiveness of a company's workforce because of the ability of such signage to answer basic questions from interested potential customers.
Given the flexibility of this service, new marketing concepts that can potentially be localized are quickly adopted by a company. One additional bonus in this approach is with the increasing use of LED lighting, the ability to lower costs for utilities by a company is achieved.
Smaller and More Open
Bigger and better sounds like the right philosophy to embrace, yet the truth is that giving consumers the opportunity to roam within the confines of a building is more conducive to contemporary design trends.
An experienced general contracting firm will know how to make the most of what it has available and deliver the type of building that gets the most bang for the buck.
This is often most effective when used with companies that have adopted a more automated approach to their service delivery. That's primarily because of the ability for customers to conduct business in a swift manner.
Such ease of operation lends itself to a stronger brand engagement.
Your California Commercial General Contractor
Sierra Group can offer extensive experience as a commercial building contractor when the consideration of design options is undertaken.
While we're happy to offer our educated opinion on the subject, we always value input from our customers. So when you need a contractor you can trust, call Sierra Group.

---