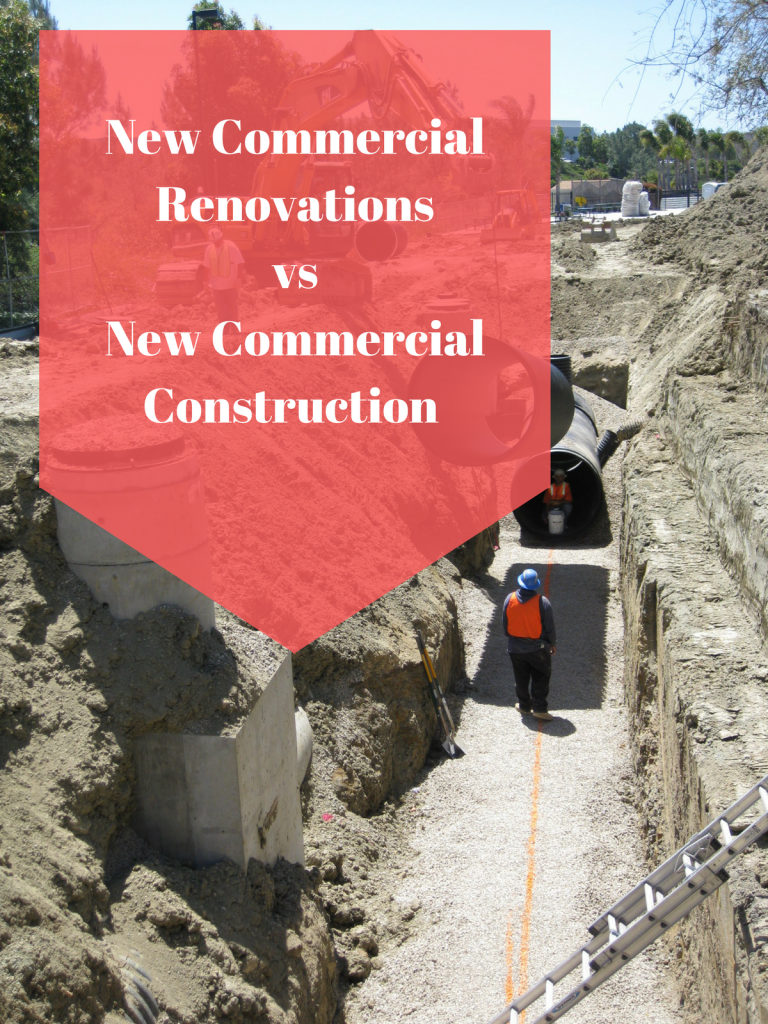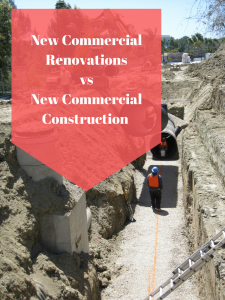 The use of a general contractor commercial businesses need in conjunction with a new project can sometimes be based on whether the work is a renovation or involves
building construction
for a completely new structure.
A number of factors go into that final decision, so working with a commercial building contractor on this task can often help tamp down the stress level that such an important decision can bring.
Making that final choice easier comes when you consider some of the following options:
Financial Ramifications
This is likely the most obvious situation to ponder since forging ahead with a building construction when the company's budget can only afford a renovation is foolhardy.
The type of general contractor commercial businesses use should be able to assist in this type of matter. The reason is that they'll have a handle on the costs of the items required.
When the money is there, that commercial building contractor is still invaluable because they'll be able to fully understand your needs.
If all you need is a new HVAC system or want to adapt an office space to reflect changing requirements, there's no sense moving into a newly-built and costly structure when just a few additions or touch-ups will be sufficient.
The Time Element
If changes need to be made at an expedited level, a full-blown construction of a new building is a bad decision. That's because such projects will have a much longer timeline attached to them.
That means that your schedule can quickly become a mess because of the inability of the construction to be completed at such a breakneck pace.
Yet if it's clear that the building your commercial business is working out of can no longer accommodate your needs than a new construction is in order.
The reality is that even renovations can encounter delays for unforeseen reasons, such as weather concerns, but if the clock is ticking on making such an adjustment, then this is the right call.
Evolving Practices
Rules and regulations, both from governmental entities and a company itself, can mean that fixes need to be undertaken.
Such upgrades can quickly reach the point of no return, whereby the investment made really isn't worth it.
That leads to spending some additional money on a brand new construction in order to make it easier down the road.
Even if this doesn't fall under jurisdictional concerns, this type of decision can sometimes be based on the philosophy of a business.
Becoming more environmentally-conscious has been part of the framework of many companies. However, the changes that are meant to save money may be impossible if the building itself isn't equipped to work in concert with the approach.
Planning on Design
A new business may move into an older building when first starting out, given the lower costs when it comes to renting. However, staying there may not be an option if any planned renovations can't encompass the vision put forth by a company.
Such images can spring forth in consultation with either employees or customers and clients.
That original building might have been designed for its first occupant, yet might reach a stage where it's completely impractical staying there.
Still, that's not always the case, since renovations on some of America's most historic structures shows that repurposing such buildings can make sense.
Surprise, Surprise
A renovation may be cheaper than a new build but there are occasions during the course of a rehab that an unexpected discovery along the way occurs.
It might be the discovery of mold or some other toxic presence inside the walls, problems that have to be removed before the project will be able to continue.
More conservative companies that aren't seeking to chance such an unwelcome find will prefer a new build instead. While they certainly would prefer to stay in traditional surroundings, that decision is sometimes taken out of their hands.
The end result is that the wisdom of starting new construction overrides a preference for renovation.
Nature of the Business
Any business sector that hasn't changed much over the few decades might be inclined to simply stay where they are and undertake a renovation.
After all, it could be a mature industry that relies on familiarity. The problem is that in an age of high-tech concerns, such buildings may not be equipped to smoothly adapt.
This is especially true for those companies whose lifeblood is connected to reliable and powerful computer operations.
While those computers may be able to fit neatly within the confines of the current building, it may not be tech-friendly enough to keep a business thriving in the manner expected. That can lay the groundwork for potential disaster and dictates a new build.
Level of Control
When the decision to construct a new building is made, the company that moves forward with it will be at the helm. By controlling all aspects of the building construction, that firm will be able to shape it according to their exact specifications.
For many companies, this can mean envisioning the future instead of trying to accommodate the past.
Ceding that control is what takes place in a renovation since the general contractor commercial businesses use will need to work with the current makeup of the building.
That may not be an important factor if simple practicality is what's being sought, yet ignoring it or not taking into consideration might be a costly mistake.
A Simple Decision
The Sierra Group offers its services as a commercial building contractor, especially to companies seeking a unique level of expertise when it comes to general construction concerns.
They can offer cogent advice that can answer the types of questions that can often leave a business in a quandary. So when considering a renovation or brand new construction, make sure Sierra Group is your first call.

---