The current crisis has presented a challenge for every business in the US and abroad. Many have switched to remote operations, some have reduced hours and or gone to skeletal staffing, and some have closed, either by choice or mandate. In each case however, physical security solutions are more important than ever. Chances are, there are more people in and around your facility than ever before making necessary deliveries, and at the same time, you have fewer staff available to monitor the property and your daily operations. Fortunately, with DMP Virtual Keypad™, you have a way to manage and increase the security of your property from anywhere in the world.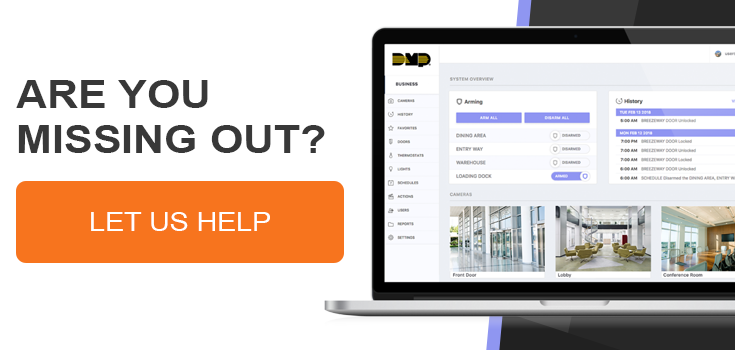 Managing Operations and Maintaining Security
It may be a while until business is "business as usual" but you can reduce some of the common security threats and ease CDC compliance by fully leveraging the DMP Virtual Keypad™.
Grant Door Access Simply
Available to those that have DMP Access Control installed on the alarm system to which they've connected, the "Grant Access" feature is especially valuable in complying with the Centers for Disease Control and Prevention's recommendation regarding limiting the number of customers to no more than 10 at any time. With it, you can grant access to a limited number of people at a time while also maintaining a safe distance, such as from behind the counter.
Controlling access is also important in situations where businesses must accept deliveries at diverse hours or essential services where some personnel need continued access. Granting access remotely allows the business to continue while limiting contact and helping quell the spread of the coronavirus. 
Tie in Video Cameras to put you at the scene
Video surveillance cameras are a staple of commercial video security, and even more valuable during this crisis. Eagle Eye Surveillance and DMP video cameras can be integrated with your security and access system and accessed through DMP Virtual KeyPad™. Whether you are monitoring activity, arming the system, or granting access to employees and vendors, you have the convenience of one app to do all that and more.
In an alarm event, you receive real-time alarm notifications on your mobile devices. By clicking on the Alarm Push Notification, you open the app to view a list of available live camera views that allow you to verify the alarm.
Set Users as "Inactive" in Virtual Keypad™ app or browser 
As businesses manage through the coronavirus outbreak, new requirements are emerging.
If any of your employees have been quarantined, it may become necessary to limit their access to your business. For quarantine and furloughed employees, it is also possible to remotely change profiles to Inactive during their temporary leave of absence. And when they return, all of their profile settings in User Codes are saved for reactivation.
The Virtual Keypad™ app and browser interface allow users to remotely arm, disarm, change/create user codes, and grant access to staff, service providers, and vendors while observing CDC recommendations regarding social distancing. 

Sierra Group is An Authorized DPM Integrator
As a united, multi-disciplined service focused company specializing in physical security, we have a unique 360° perspective that gives us the ability to help you meet your specific security needs with laser precision. We are certified DMP integrators, making their full line of high-quality, and open-architecture products available to our customers. 
If you are looking for a security integration and management company or would like to discover the powerful and expanded features offered by DMP products, Sierra Group offers the latest innovations in electronic security from Video Surveillance, Access Control, Alarm Systems, and Intercom. Our goal is to help you reach yours. 
Learn more about the Sierra Group difference here, or reach out to us at:
Chris Jeske
ESD Manager
818-266-7462 (cell)
1-(888)-880-4949 ext. 230
cjeske@callsierra.com
www.callsierra.com
---