What We Offer
Take your facility's security to the next level today
In an ever-evolving world where threats loom large, businesses must stay one step ahead to protect their assets and ensure the safety of their employees. This is where our cutting-edge electronic security services come into play. Harnessing the power of video surveillance, cloud-hosted surveillance, and cloud-hosted access control, Sierra Group provides businesses with the modern solutions they need.
Gone are the days of relying on outdated systems that deliver limited coverage and accessibility. Our comprehensive services offer real-time monitoring, advanced analytics, and seamless remote access. With our electronic security solutions, Orange County businesses can enjoy complete peace of mind and heightened operational efficiency in today's fast-paced, digitally connected world.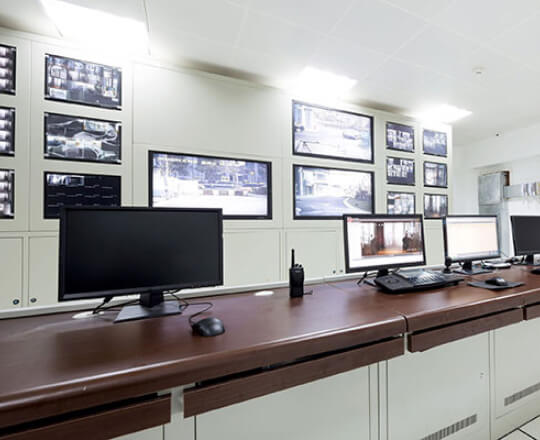 Safeguard your business in Orange County with premium electronic security services
Your security is our top priority – we understand the significance of protecting your commercial property. With our comprehensive package that includes 24-hour alarm and video monitoring, top-of-the-line access control systems, and cloud-based SaaS and VSaaS solutions, we offer you the ultimate electronic protection services.
Our customizable analytics options empower you to optimize your operations, proactively identify possible threats, and act swiftly to prevent any harm. You can count on us to provide you with state-of-the-art technology to keep your Orange County business assets secure at all times.
What sets us apart from the competition
A deep understanding of the electronic security services industry and extensive experience we apply to every project.
Delivering exemplary workmanship that surpasses industry standards.
We nurture trusted partnerships with esteemed companies, enabling us to offer the most reliable solutions for your Orange County properties.
Our services are meticulously tailored to meet your specific needs, ensuring a perfect solution for each client.
Prioritizing cost-effectiveness so you can receive services that not only meet your electronic protection requirements but also fit your budget.
Explore our comprehensive range of electronic security services


Alarm systems & monitoring


Access & safety phone systems
A word from our happy clients
Unbelievable support and effort, we truly appreciate your personal commitment to overcome each obstacle for us.
Excellent and thank you for all your hard work. It was a difficult project from the start to the end.
Everything went great and your technicians are fast and professional.
Thanks so much for everything you do for us.

Warner Bros

Wescom Credit Union

Bank of the West

Easter Seals
View All Testimonials
Frequently Asked Questions
It includes not only security cameras but also other components of electronic protection services like video management software, storage, and monitoring stations. On the other hand, security cameras refer specifically to the physical devices that capture and transmit video footage for surveillance purposes.
Overt surveillance involves visible monitoring where the presence of surveillance is intentionally made known to deter potential threats. It's often used in public spaces or high-security areas.
Covert surveillance is discrete monitoring conducted without the knowledge of the observed individuals. It's used in law enforcement or private investigations to gather evidence without alerting suspects.
Automated surveillance relies on advanced technologies provided by electronic security companies, like video analytics, facial recognition, and artificial intelligence. It automates the monitoring process, enabling efficient analysis of large amounts of data and identification of potential security threats in real time.
It involves IP cameras capturing footage, which is compressed, encrypted, and transmitted to secure cloud servers for storage and processing. Users can access video feeds, manage settings, and review recordings conveniently through a web interface or applications, providing reliable storage and advanced features like video analytics.
This approach eliminates the need for on-site hardware and software management. It enables remote access to video feeds, simplified administration, easy scalability, and seamless software updates, providing businesses with a flexible and efficient solution for their video surveillance and electronic security needs.
Whether you're located in Huntington Beach or closer to Chapman University, our reliable experts in Orange County will find a perfect solution to protect your business. Call us today and find out what we can do for you.