Get to know us
Protect your valuable assets with our help
Sierra Group brings you state-of-the-art solutions through a comprehensive electronic protection suite of services. We seamlessly integrate advanced video surveillance, intrusion systems, access control, and cutting-edge analytics. With our innovative offers, your business can gain a shield of defense that safeguards not only your assets but also your invaluable workforce.
Unlock the power to monitor, optimize, and fortify your operations with customized solutions meticulously crafted by our dedicated team of experts to perfectly align with your unique requirements and financial goals. Achieve complete peace of mind with our electronic security company in Irvine, empowering your business to proactively mitigate risks, respond to potential threats, and create a safe environment conducive to productivity and growth.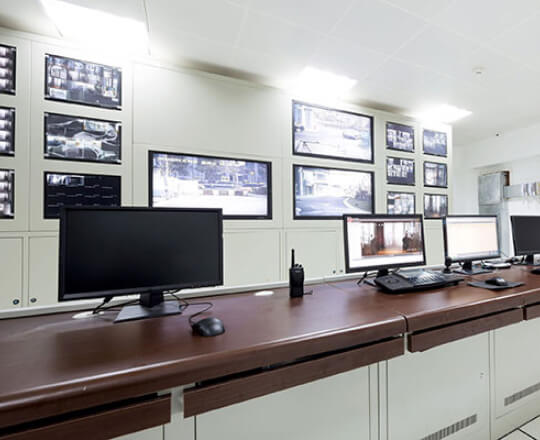 Fortify your business with comprehensive electronic protection services in Irvine
In today's dynamic landscape, ensuring the safety of your assets poses unprecedented challenges. So let us set your mind at ease with our electronic protection services suite that will allow you to maintain seamless business operations. Our mission is oriented towards early threat detection and prevention, providing you with an unrivaled sense of control and peace of mind.
We adhere to the highest industry standards as an ASIS International member, delivering cloud-hosted SaaS and VSaaS services that empower you to securely manage your data wherever you are. Our commitment to your success is reflected by the meticulous customization of every aspect of our partnership to help you optimize your work routine and performance, giving your business the competitive edge it deserves.
What makes us stand out from the rest
Vast knowledge and expertise in the electronic security service industry.
Setting a benchmark for excellence with our exemplary workmanship.
Trusted partnerships with the most esteemed companies in the market.
Carefully tailored services ensure a perfect fit for your business requirements.
Cost-effectiveness – we offer the best value for your investment.
Efficient electronic protection services in Irvine

24-hour alarm and video monitoring

Management of video surveillance

Specialized entry & safety phone systems

Access control & commercial alarm monitoring
Our accolades attest to our quality
Unbelievable support and effort, we truly appreciate your personal commitment to overcome each obstacle for us.
Excellent and thank you for all your hard work. It was a difficult project from the start to the end.
Everything went great and your technicians are fast and professional.
Thanks so much for everything you do for us.

Warner Bros

Wescom Credit Union

Bank of the West

Easter Seals
View All Testimonials
Frequently Asked Questions
The latter type, commonly used for security purposes, connects to a recording device like a DVR or NVR. These devices enable continuous or event-based recording, ensuring comprehensive coverage of your surveillance needs.
VSaaS allows businesses in Irvine to access video surveillance capabilities remotely through the Internet, eliminating the need for on-premises infrastructure. With VSaaS, you can securely manage and monitor your surveillance footage, benefiting from the convenience, scalability, and advanced features it provides.
By utilizing advanced security tools and algorithms, cloud security monitoring enables businesses to identify and mitigate potential security risks, ensuring the integrity and confidentiality of their assets. Reliable electronic protection companies in Irvine offer robust cloud security monitoring solutions to safeguard your business from ever-evolving threats.
It eliminates the need for on-site servers and provides the flexibility to administer access permissions, monitor entry points, and track activity from anywhere with an Internet connection. Electronic security companies that provide cutting-edge cloud-based access control systems can ensure efficient, secure, and convenient access management for your business.