What We Do
Safeguard your assets with our cutting-edge solutions
Sierra Group is a leading electronic security company in Los Angeles offering fully integrated video surveillance, intrusion systems and access control, as well as advanced analytics like facial and license plate recognition. 
These solutions are a crucial investment for any business looking to protect its assets and employees and enable companies to monitor and optimize their operations. Our team of diligent specialists will work with you to create a custom service that fits your specific needs and budget.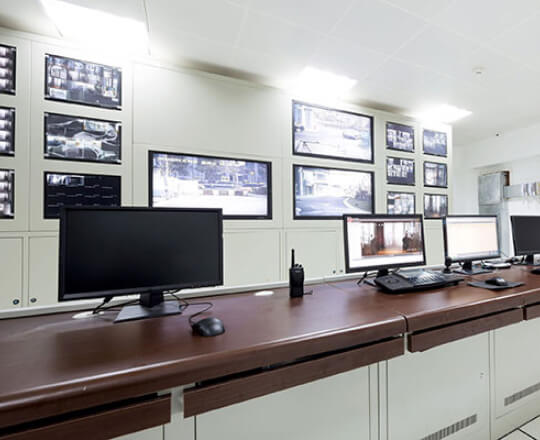 Optimize your operations with advanced electronic security services
In today's world, ensuring the safety and security of your property and assets is more vital than ever. Our comprehensive electronic protection services, including 24-hour commercial alarm and video monitoring, cloud-based hosted SaaS and VSaaS solutions, and access control, provide your business in Los Angeles with the protection and peace of mind you need to focus on what you do best.
With our advanced analytics and customizable options, we can help you optimize your operations and prevent potential security threats before they can cause damage. Our services ensure that you have the latest and most innovative technology at your fingertips to keep your property and assets safe and secure.
What makes us the go-to electronic security company in Los Angeles
Delivering superior workmanship
Tailoring services to suit your property or business
Forming partnerships with reputable companies
Utilizing extensive years of expertise in the industry
Ensuring a cost-effective solution
Discover our all-encompassing electronic protection services

Alarm systems & monitoring



Specialized entry & safety phone systems
Our many 5-star reviews are your quality assurance
Unbelievable support and effort, we truly appreciate your personal commitment to overcome each obstacle for us.
Excellent and thank you for all your hard work. It was a difficult project from the start to the end.
Everything went great and your technicians are fast and professional.
Thanks so much for everything you do for us.

Warner Bros

Wescom Credit Union

Bank of the West

Easter Seals
View All Testimonials
Frequently Asked Questions
These systems are designed to detect potential threats and alert the appropriate authorities or individuals, helping to prevent security incidents and ensure the safety of people and assets in Los Angeles.
Sensors: A sensor detects potential security threats. For example, a motion sensor may detect movement in an area that is supposed to be vacant.
Control Panel: When a sensor is triggered, it sends a signal to a central control panel. The control panel then processes the signal and determines the appropriate response.
Alarm: If the control panel determines that a security threat is present, it may trigger an alarm. Alarms can take many different forms, from a loud siren to a silent alarm that alerts a monitoring center.
Monitoring: When an alarm is triggered, the monitoring center is alerted, and the appropriate authorities can be dispatched if necessary.
Response: Finally, when a security threat is detected, the appropriate response can be initiated. For example, an access control system may prevent an unauthorized person from entering a building, or a video surveillance system may provide footage of a potential security incident that can be used to identify and apprehend a suspect.
Electronic security services can offer a range of benefits for businesses in Los Angeles looking to protect their physical assets, sensitive data, and employees. These include:
Enhanced protection: They can provide a higher level of protection than traditional security measures, such as locks or security guards. This is because these systems can monitor a property 24/7 and detect potential security threats in real-time, helping to prevent theft, vandalism, and other security incidents.
Increased safety: These services can also help to improve safety by detecting potential fire hazards, monitoring for hazardous materials, and identifying other safety risks.
Remote monitoring: Many systems can be monitored remotely, allowing users to keep an eye on their property from anywhere with an internet connection. This can be especially beneficial for businesses with multiple locations or individuals who frequently travel.
Peace of mind: Knowing your property is protected can provide peace of mind, reducing stress and allowing you to focus on other important tasks.
By investing in regular maintenance and monitoring, businesses can ensure that their property is secure and any potential issues are detected and addressed promptly.