Being able to maintain a facility can be a rigorous exercise for any company, especially considering that they have much more important priorities. The problem is that your core facility services have to be in place in order for the building to operate under normal conditions, which means that either offering either a haphazard or minimal effort simply isn't a possibility.
One of the simplest ways to address this concern is to employ the services of a facility maintenance company, given the fact that their experience and abilities in the area of commercial facility services can allow for a greater focus on more pertinent aspects related to a business.
Listed below is a sampling of some of the ways that your facility maintenance choice will offer a welcome peace of mind:
Repair Concerns
Any commercial facility will inevitably deal with the ramifications of wear-and-tear on equipment or certain areas that make up the building itself.
Facility repair services are one of the core facility services that's offered by your choice for facility maintenance since it's a safe bet that the staff of a company has neither the skills nor the time to undertake any repairs.
For any landlord, handling the problem of tenant repairs also falls into that category of facility repair services. By being able to quickly dispatch a crew to deal with the problem, you're able to offer the tenant quality commercial facility services, making them much less likely to search for new surroundings.
Tackling Emergencies
While wear-and-tear is expected, emergencies come about without warning and may require quick action in order to avoid the prospect of major damage.
Having a facility maintenance crew that's equipped to handle such dreaded scenarios is a reassuring acknowledgment of the real value that they can provide.
HVAC Matters
There's not much worse than entering any sort of structure and finding out that the HVAC system is down or malfunctioning.
That can mean the lack of summer air conditioning can turn a comfortable office area into a sweltering hot box or problems with a facility's water heater makes a chilly morning much more frigid.
The company you put in charge of such matters knows the likelihood of such things taking place, which means that they conduct regular maintenance on these important areas. Many can handle these concerns during downtime or when a facility is seeing minimal usage.
Keeping the Lights On and Electricity Humming
Power failures can take place at any time, while lights will eventually need to be replaced. This tends to be so much easier when you choose the ideal option among facility management companies that can help you fix any issues as they arise.
The latter issue often involves much more than changing a single bulb, while the former could be dangerous for anyone who tries to play the amateur handyman. Plus, those lights may be helping provide security that can't afford to be compromised.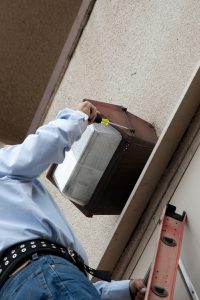 Handling Needed Changes
Additional office space may need to be set up, furniture may be getting replaced or new technology could need to be implemented.
Working those into the framework of a standard business day for staff to handle is a counter-productive exercise that makes no sense. Plus, commercial facility services such as these can often be conducted these jobs during off-hours.
Your Best Choice
Sierra Group is a company offering the core facility services noted above, allowing you to put the onus on the work that brings in revenue for your company.
The facility repair services we offer encompass a number of different areas and help keep any down time for a business or tenant to an absolute minimum and also allow you to stay on track.

---