The branch of the future debate is one that has been going on for quite some time. What should branches of banks look like? How should they perform?
What will they do differently from ordinary branches? Indeed, some even ask the question of is a physical branch needed at all?
While we see most banks keeping branches prominent, we also see Ally that are totally comfortable with conducting all business online.
While not everyone would be ready for an online-only experience, plenty of people would be willing to indulge in the bank branch of the future.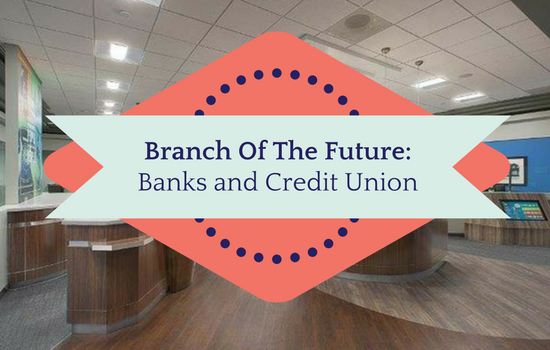 In this post, we're going to dive into what a branch of the future is, what it does, and how it changes the way banks work.
What is a bank branch of the future?
A bank branch of the future is a clever redesign of the present branch. Instead of having to wait in lines to talk with tellers behind glass, these branches have an open plan and are more likely going to remind you of a coffee shop rather than a bank.
They're structured with the customer's comfort in mind, with plenty of fancy chairs to sit in and possible refreshments to munch on as well.
Bank branch construction declined since the great recession, which is allowing locations to focus more on flagship branches than having multiple sub-par locations.
When bank construction is considered, banks are now thinking more about how they'll interact with their customers going into the future.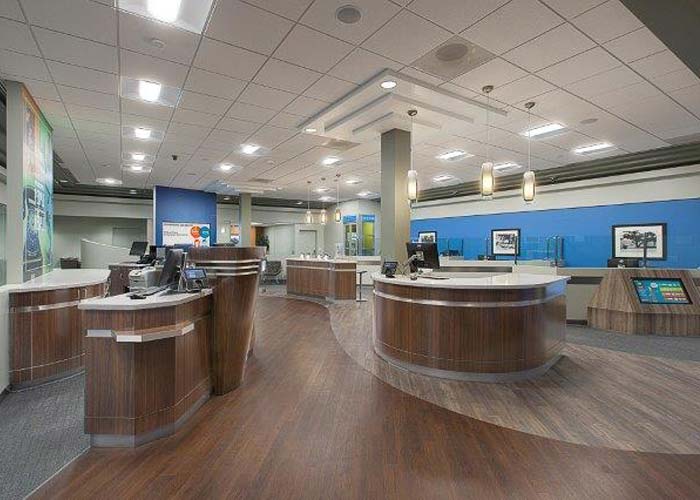 One example of the branch of the future put into action is Bank of America's design that incorporates video conferencing for customers to connect with mortgage experts and the like so that they can take advantage of resources that might not even be at the physical location.
Ultimately, of course, the bank branch construction has to be considered with what the bank is going to be offering.
If there isn't going to be some sort of improvement or involvement with the customer, then building contractors shouldn't even be employed for the bank construction. The bank would just be better off with an internet app and presence.
Some consider this to be a renaissance of the banking experience, even despite the recent closures in branches. They see this as a quality versus quantity situation where branches that have better features and better security systems are being constructed at the expense of the more traditional branch.
One of the interesting improvements in technology is the ATM machine that incorporated an almost iPad-like experience where customers use a touch screen to conduct their transaction.
The way this works is that they make their deposit from $1 to $1,000 and activate the machine by specifying how many of each bill they want to receive, making the whole experience as customizable as possible.
You can even use this for loading pre-paid cards as well as paying your bills.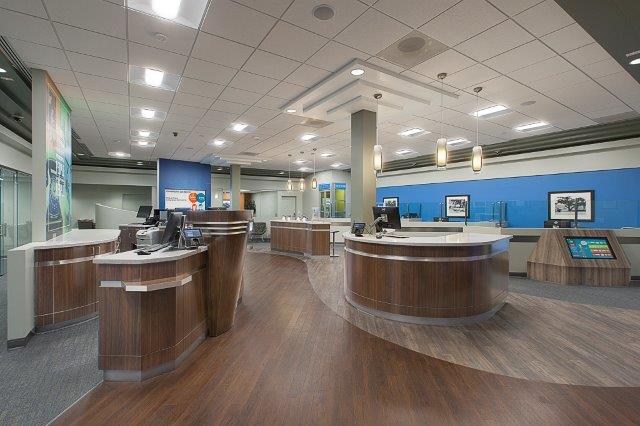 While these branches of the future maintain some vestiges of the past, they mostly flipped the script and allow for ease of use. Some will have only two tellers while maintaining a short wait.
How is this done? There are more self-service areas put into place to alleviate long wait times and lapses in service.
What sets the Branch of the Future apart?
The immediate changes are those that are visual. You have many of these branches looking like something out of a sci-fi movie with ground up construction to make these branches as futuristic as possible.
All the while, bank security and security systems are just as tight as ever. These branches have deliberately been set up and loaded with touch screen interfaces, open floor designs to emphasize spaciousness, and comfortable seating to bring everything together.
Quick service stations are often offered for those who need faster service, and some of these banks are actually open seven days a week to accommodate business.
Many of these branches have free Wi-Fi, which is a bit of a toss up. You have the convenience of free Wi-Fi for your customers, but that comes at a price: You're more likely to have loiterers who are loitering in order to use the free internet access.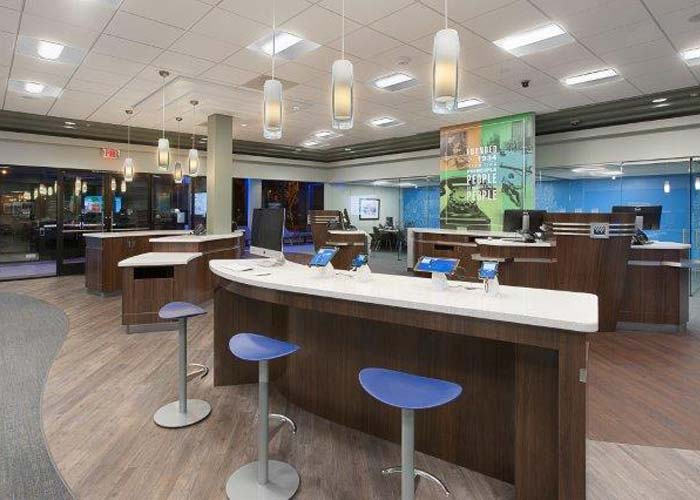 Building contractors and the overall ground up construction factor into the final form of the branch in question, of course.
A lot of these locations are built in nontraditional ways, which gives contractors an added level of difficulty.
But once these branches of the future are built, it's this aesthetic that they capitalize on. You might see a futuristic branch of the future situated right between two regular brick-and-mortar stores.
Some branches are set up to be stores rather than stand alone branches. This isn't just a question of naming–these branches of the future as actually stores, where the customers are encouraged to take a seat in their comfortable furniture, drink coffee and enjoy the free Wi-Fi.
There are tablet computers that customers can sit in so that the whole place is more like a cafe than a bank. These branches of the future are looking like just that–the future.
The branch of the future debate is one that has been going on for quite some time. While this list isn't exhaustive, it should give you an idea as to what branches of the future are and what they are looking to become.

---